i:Mo; the business travel app
We understand that you might take charge of the organization of business travel for yourself or your colleagues. Using platform websites such as Skyscanner or Cheaptickets can mean a lot of administrative hassle and you can quickly lose track of what you're doing. This is especially true for more complex business trips, where car rental, several hotels and many trips are usually involved. To unburden you, we offer our i:Mo business travel app for free.
Always have your travel information at hand with the i:Mo business travel app
Within i:Mo we bring together all the offerings around hotels, airline tickets, train tickets and car rentals. No handful of environments to make a business trip successful, but one app for all your bookings. It is also possible to set up the app based on your travel policy, so you are always compliant. Travelers can easily submit travel requests or expenses, which the manager can then approve or reject.
Some of the other features:
Book a hotel or rental car directly
Overview of your bookings in a timeline or per trip
Push notifications about new bookings, changes, cancellations, approvals, etc.
Expense & receipt recognition
Tasks: approvals and rejections
Duty of Care
Online check-in
Weather & maps
Important contacts
Currency converter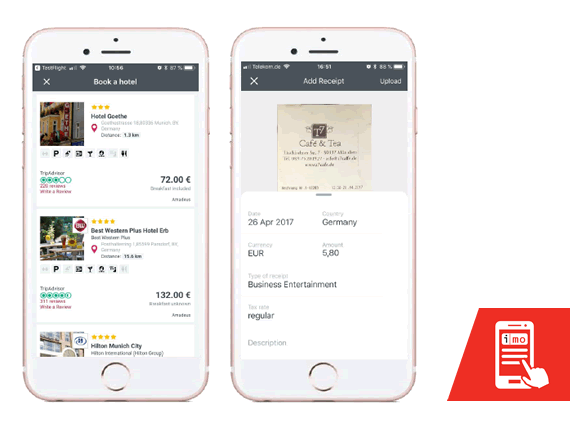 Watch the Youtube explainer video of our business travel app below or contact us for a demo or the brochure.